Conewich bread cones are perfect for: Service Delis, Hotels, Caterers, Airports, Airline Food Service, Food Courts, Cart Vendors, Theme Parks, Amusement Parks, Stadiums/Sports Arenas, Races, Fast Food Convenience Stores, Vending Machines, Colleges/Universities, Corporations, Hospitals, Cafeterias, Commissaries, Grocery Stores and More!!! And they are easy to serve.
Countertop Server
| | |
| --- | --- |
| | 4-Cone, Countertop Server with Menu/Price holder in front. |
For more information about countertop servers, please contact:
Linda Guangorena
Account Manager
Beemak - IDL Display Products
16711 Knott Ave
La Mirada Ca 90638
800.421.4393 ext 2136
Fax 310.764.0330
Conewich Bread Cone Holders

Click HERE for additional illustrations.
This patent pending triangle-shaped Conewich bread cone holder was specifically designed to tightly fit the paper beverage carrier that is shown. This allows the filled Conewich bread cones to stand up and be easily carried in the beverage carrier without fear of dropping them. Additionally, the Conewich bread cone holder stands upright on tables and fully supports the filled Conewich bread cones and fits into any standard size beverage holder that is commonly built into the seats at stadiums, sports arenas, and movie theaters. Finally, the holder can be held in the hand and when squeezed it transforms into an oval-shape that firmly holds onto the filled Conewich bread cones allowing one to be able to sit, stand, and walk, while eating. By the way, this same holder even fits the standard beverage holders that are in every automobile that is made. This is a real breakthrough for people who are on the go! These holders are intended for single use only. If used in a conventional oven, please place on a bake-pan or baking sheet. Do not exceed warming temperature of 350Ëš degrees Fahrenheit. Do not exceed 45-minutes standing after warming. Temperature of hot or chilled fillings in Conewich bread cones should comply with all local/state/federal regulations.
Please Contact:
Insua Graphics
Eric Insua
818.767.7007
eric@insua.com
Wire Countertop Holders
Caps • Aprons • Shirts
3 Convenient Sizes
4" Appetizer Conewich: Holds approximately 3/8 Cup

5" Standard Entree & Dessert Conewich:
Holds approximately 5/8 Cup

6" Large Entree Conewich: Holds approximately 7/8 Cup
Serving Paper Goods
Please contact:

California Paper Bag, Inc.




1829 Dana St Ste A




Glendale

,

CA

, 91201

United States




(818) 240-6717
Notice
Links are to companies that serve retail outlets, suppliers and distributors. Conewich Enterprises is not responsible for fulfillment of or payment for any orders for accessories. Links are furnished for convenience. Third parties are free to select other sources for accessories.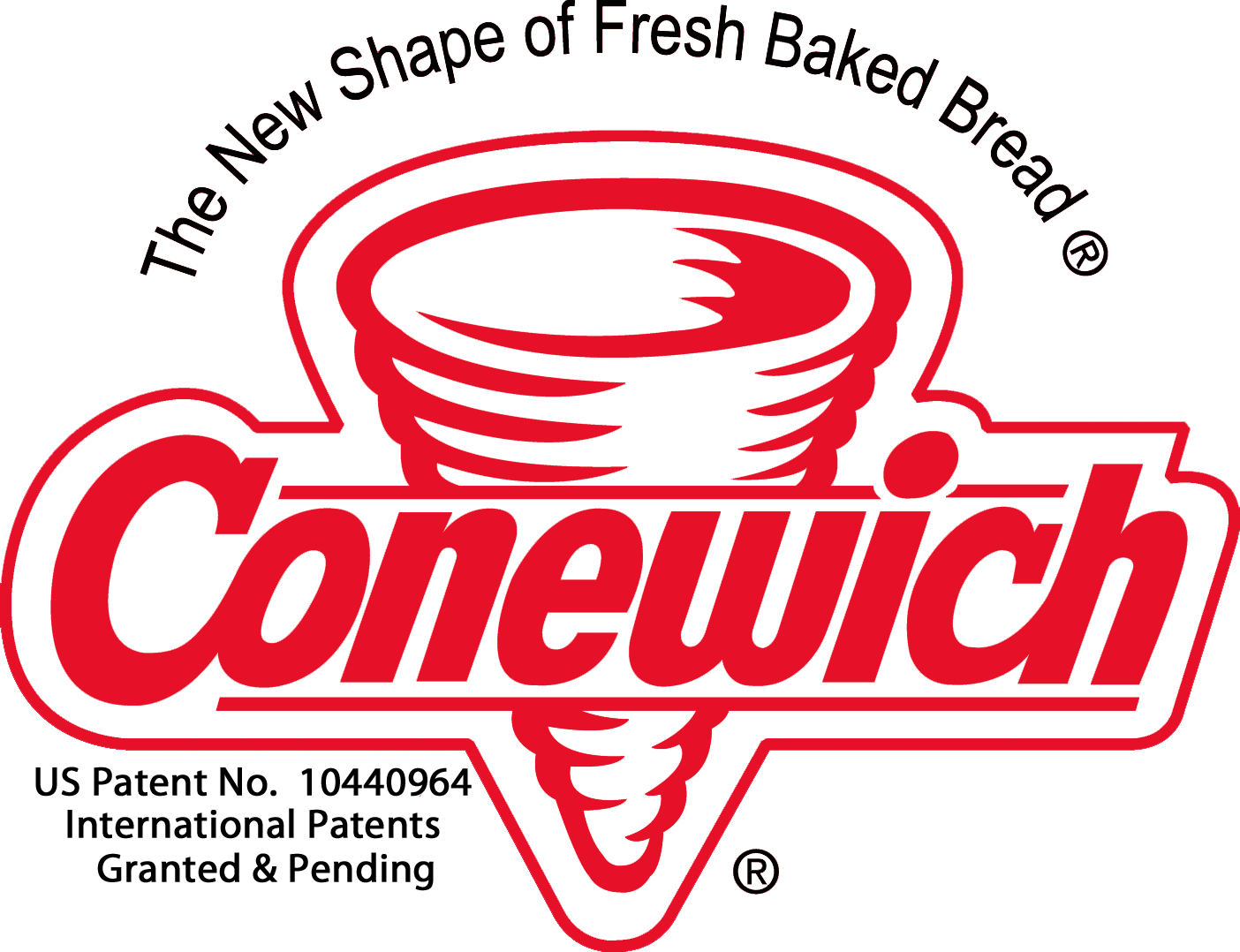 Copyright © 1998, © 2002, © 2007, © 2012, © 2015,
© 2016, © 2017, © 2018, & © 2019 Conewich Enterprises
Limited Partnership, all rights reserved.
Legal Notice